The school currently has 3 teachers, Sloan Carlson and Rachel and Gregory Shaw

. Check out the background information on us.

Andy Sirkis, James Edel and Kristin Clumpner
are our former teachers.


Teacher's name: Sloan Carlson
Home Country: Buena Park, California, USA
Education: Business Admin. Management
Time in Japan: 1996 to Present
Hobbies:  Origami, Fishing & Gardening
Background
 I grew up along with 5 siblings in a small city near Los Angeles, Ca. I attended the University of Alaska at Anchorage. I received my bachelor's degree in Business Administration. I played basketball while attending the University. I love the outdoors, but rarely take the time to experience it these days.
 After graduating, I worked for a Christian organization for 4 years at a University in Washington State. After finishing the work, I concentrated on living a simple lifestyle pursuing my interests. I was fortunate to head a volunteer language program for refugees and immigrants in Seattle, Washington for 4 years. I have done a variety of things over the years. I have been a gardener, painter (houses) and a commercial fisherman among other things before coming to Japan.
 I first came to Japan to learn origami when I was 29 years old. It was my desire to combine storytelling with origami. Many years passed and at 36, I entered the JET program to become an assistant English teacher at Kisakata Junior High School.
 This was a wonderful time in my life. I was fortunate to have experienced the hospitality of the local people as well as live in a gorgeous area. It was during my initial 3 years that I met my wife. We married in 2000 and we decided to settle down here in Nikaho City.
 In 2000 I worked at 3 elementary schools for one year. My contract ended after one year. The time at the schools convinced me to start my own school. The following year my wife and I started the school in our house. We are grateful to many people for helping us along the way with the school.







Background

Rachel and Gregory Shaw
Our current teacher's personal information is not up at the moment.

Teacher's Name:  Andy Sirkis
Home Country, City:  San Francisco, USA
Education: MBA, Finance
Time in Japan: July 2009 to present
Hobbies: Bicycling, hiking, investing, current events
 Have you heard of Ohio? It's a state in the middle part of America and it's where I grew up.  My older sister, my parents and I enjoyed living there, but all of us moved to Philadelphia which is a large city on America's east coast. After my sister grew up, she moved to California. I liked visiting there so much that I decided to move there too.  Living in San Francisco where there are so many cultures and many Japanese people encouraged me to expand my interests beyond America.

 My lovely wife Yuriko and I met each other in San Francisco and have been married for more than 10 years. Yuriko was born and raised in Kisakata and for that reason we decided to move here. We have one daughter who is now in Kisakata Elementary School. She is fluent in both Japanese and English.

 Thanks to my wife and her excellent cooking skills, I have come to love and appreciate Japanese cuisine. Every day is a learning experience for me and sometimes I am frustrated by my difficulty with the Japanese language. Nonetheless, the kindness and patience of the Japanese people I have met has made a big impression on me.  I have much to learn about Japanese culture and the Japanese language. I am certain that I am fortunate to experience living in Japan. I love it here!

 My favorite hobby is riding my bicycle and if you live in Kisakata, you are living in a fantastic place to ride a bike. Riding up Mt. Chokai is my favorite thing to do and I feel blessed that I am living in a place where I can enjoy nature's beauty without having to travel a great distance. You may see me riding about town and if you do, please wave or shout hello. I promise to wave back!



Teacher's Name: James Edel
Home Country, City: Calgary, Canada
Education:

B.RE

; MA TESOL
Time in Japan: Oct, 2010 to January 2012
Hobbies: Baseball, golf, martial arts; learning about other cultures
  I grew up on a pig farm in Canada. I have two younger sisters who are teachers and a younger brother who is a musician. You can listen to him at: www.myspace.com/mikeedel. In the middle of college I spent a year teaching English in Asia. After that I knew I loved learning about other cultures – and especially eating their food. I worked at a juku (tutoring agency) for 3 years and then decided to take a masters degree in TESOL. At this time, I also began teaching immigrants to Canada. I enjoy the classroom a lot.
  My family is a big, big, big part of my life. My wife and I have one daughter, Naomi, and she is our princess. Because we love her, we call her names like "monkey" and "turkey". Do you call little kids these names in Japan? I like playing with her in the park. She loves slides.
  Besides my family, I enjoy sports. Hockey, golf, baseball, volleyball, soccer, and martial arts are some of my favorites. I like cars too. I had a Mazda Protégé 5 in Canada and it was a great car! Be careful if I'm driving past your family's car. Canada drives on the opposite side of the road! Oh my goodness.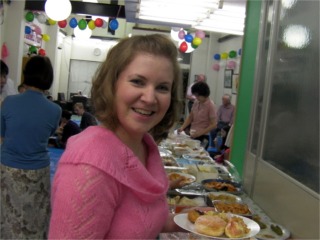 I'm from the small island town of Anacortes, Washington. My older brother and I grew up in a loving home, with cats, dogs, and a horse.
  I came to Kisakata 10 years ago as a high school student with the Sister City Exchange. It was my first trip abroad, and I loved the area so much, that I made a promise to return to Kisakata someday. My experience in Japan sparked a curiosity to visit other countries.
  I attended Johnson & Wales University for 3 years, graduating with a bachelor's degree in International Business. The last trimester of my freshman year was spent in Gothenburg, Sweden. I transferred to the American University of Paris in France for my junior year. During my time in Europe, I was able to travel to many European countries, seeing and experiencing cultures so different from my own. After graduating, I decided that it was time to return to Japan.
  My hobbies are horseback riding, paper cutting, traveling, baking, and swimming. My major goal in life is to pursue an organic and natural lifestyle. When I have time, I enjoy learning about other cultures and languages. I have been studying Japanese so I can become more immersed in the culture and lifestyle. There are so many wonderful people I have met who have enriched my life in Japan, and I look forward to those people who I have yet to meet.